The 'Mesh' solution to the discovery hole at the heart of Hook's design risks simply digging a deeper and larger hole (at a geometric rate).
If we select N files and drag them to the menu-bar hook icon, the notification tells us that sum [1..(N-1)] new links have been created. For example:
6   files ->   15 new links
10  files ->   45 new links
25  files ->  325 new links
100 files -> 4950 new links

In other words, instead of doing what we really need – adding a Project or Context element to the core of the scheme (as in where are all the links I need for project X ?) – the "mesh" approach still attempts, in the tradition of the Procustes story, to shoe-horn human work into the existing (and not really adequate, realistic or productive) url-only universe.
The Mesh solution is resource-expensive (inflates the database at geometric rates), inflexible (how do I add another 6 files to an existing mesh ?) and still leaves the hole at the middle of the donut:
what and where is the name of the project ?
how do I find it ?
what happens when the same file has a role in two or more projects ?
how do I add further links to an existing project ?
If I add six files, 'mesh' looks like this: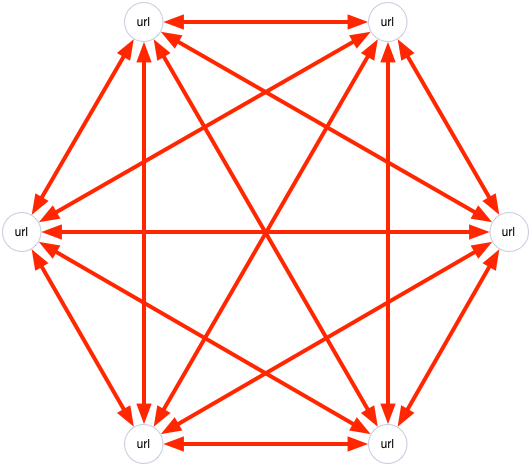 Whereas what cognitive efficiency really needs is a named project or context – a scheme which has TWO types of entities:
Named projects or contexts
links
(simplifying the addition of further links to an existing project, and saving the database from geometric bloat and redundant complexity):