Hook 3.6 asks for permission to access apps that make no sense to have Hook involved. In the hour since I installed 3.6 I've been asked by Hook to give it access to:
the SpeedTest app
the NetAuthAgent app (this agent checks to see if network disks are mounted)
the AdGuard preference configuration app
These apps have been around on my system for a long time, and I've used them for a long time while previous versions of Hook were running. Why, now, does Hook 3.6 want access them -– I see no reason at all to Hook to the NetAuthAgent app, etc. Obviously, just to make Hook go away I've denied access.
Edit: just after posting, Hook requested access control for coreautha -– a system control related to TouchID. It's ridiculous that Hook would ever been used with a background daemon like this.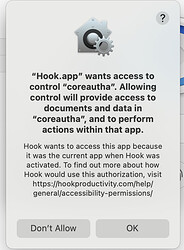 I've uninstalled Hook 3.6, now. It's become an annoyance.