Hi there! I've been trying to replace Readwise with Hookmark as my de-facto solution for Apple Books annotations as, while the former does a stellar job of syncing over annotations, Hookmark would have the additional advantage of creating deep-links to the book where I could go to re-contextualise the annotations.
What I would ideally be able to achieve with this integration is:
Read and highlight passages of a book in Apple Books
Select those highlights and create new Hookmark links to the passages
Accumulate those links (including the passages) in a Logseq page which I can then take notes on
In its current form Readwise can create a page in Logseq and sync any annotations I have on my books (see below) but naturally there's no links to the original content which Hookmark can provide.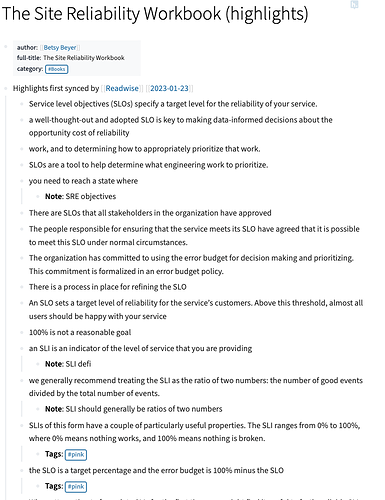 Despite looking into it for ours I have not been able to coerce Hookmark into creating such an agglomeration into Logseq. Is that possible?
I have looked into other Logseq-Hookmark integration topics like Hook + Logseq = ❤️ and Any idea on how Hook work with Logseq? bit did not manage to improve the integration beyond manually creating the above setup.
Any ideas?