Merlin Project version 8 has been released, which now has an AppleScript API for scripting. So, we are pleased to announce that version 178 of Hook integration is available, which uses this API. This means that Hook will work in all languages with Merlin Project version 8 and onwards. AppleScript is also more reliable than UI scripting.
We enjoyed working with ProjectWizard to provide you with this integration with their popular project management software, and we commend them for appreciating the importance of hyperlinking automation.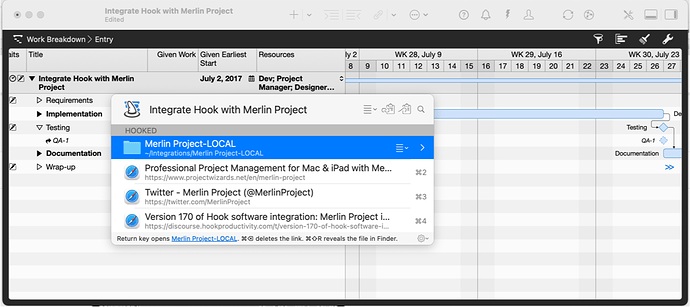 If you have not upgraded yet to Merlin Project version 8, you can use the old UI-scripted integration between Hook and Merlin Project 8, as described in Using Hook with Merlin Project.
Either way, you may wish to consult Using Hook with Merlin Project.
BusyContacts
We also note that Version 177 of Hook software integration introduced support for the SetApp version of BusyCal.
How to get the updated integration
Hook's automatic software update (if enabled) automatically updates Hook's integration scripts without you needing to relaunch Hook. Using Hook's Check for App Updates and Update Scripts command also updates the scripts, without you needing to relaunch Hook.
Spreading the news
Please consider sharing this with your colleagues who might benefit from this software, via email, Twitter and other social media.
here's a Twitter thread.
See also the Merlin Project 8.0 - TidBITS article, and the TidBITS discussion about the article.