Is Todoist integration likely in a future release?
Welcome to the Hook Productivity Forum @jlilken, and thanks for asking.
First a caveat: although we at CogSci Apps have looked into Todoist , we're not experts on Todoist. Todoist may have features (including Premium ones) we don't know about.
I assume you are referring to Todoist app rather than its SaaS.
Since even before Hook's public beta, we have occasionally been receiving requests for Todoist integration. We are not currently aware of Todoist having an API, however. Looking at its UI, it does not seem particularly promising for UI scripting (and UI scripting is not a great way to integrate with an app).
Todoist app does expose a Copy Link to Task function in the menu, which yields links like https://todoist.com/showTask?id=1941981122. (They should perhaps rename that command to Copy URL, because it is not a full link, just a URL which only is resolved to a link if you paste it into Todoist itself). You can use that URL directly and apply it to the Hook to Copied Link command for instance. If you want to turn it into a named link, you could put it into Markdown link like [task name](https://todoist.com/showTask?id=3942081722) and see it sanely outside of todoist, including in Hook.
One of Hook forum's Keyboard Maestro users might have a solution for automating Copy Link.
Regardless, as you can tell from the prior paragraph, the URL returned by Todoist app's Copy Link to Task is not a local one, its to their website; hence, it opens on their website rather than in the app, which is probably not what you want. (Perhaps that works differently in Premium.)
We believe some of our customers have been in touch with the Todoist developers. We have been in touch with them via their Contact Us – Todoist Contact. You can cite their request #516225 . You could also provide a link to this forum post [Todoist Integration - Hook Feature Requests - Hook Productivity Forum](https://discourse.hookproductivity.com/t/todoist-integration/1765), which perhaps some Todoist users will 'like' as a sign of their wish for this. We also provide this information: https://hookproductivity.com/help/integration/other-app-developers/
Meanwhile, it is perhaps noteworthy that OmniFocus, Things, TaskPaper, and other great todo apps support automated linking. And their Copy Link function, thankfully, yields an app link, not a web link.
Luc, thanks for the detailed reply. I'll try some of the options you've described to see which might best suit my workflow. Thank you, again!
I'm quite happy with the way that Hooked implements Todoist links. I actually prefer that it launched the link to a task in my browser.
I now have a question about links in the other direction – It seems that a hook link to a file pasted into Todoist (which I use in my browser or in Shift), doesn't do anything when clicked on. Am I doing this wrong?
Welcome to the Hook Productivity Forum , @RochelleB, and thanks for asking.
I'm not a todoist user myself, but I did a quick test. I did Copy Link on a folder in Finder, and in Safari, I pasted that in a todoist task. Then I clicked on the link, and was asked by Safari whether to allow it: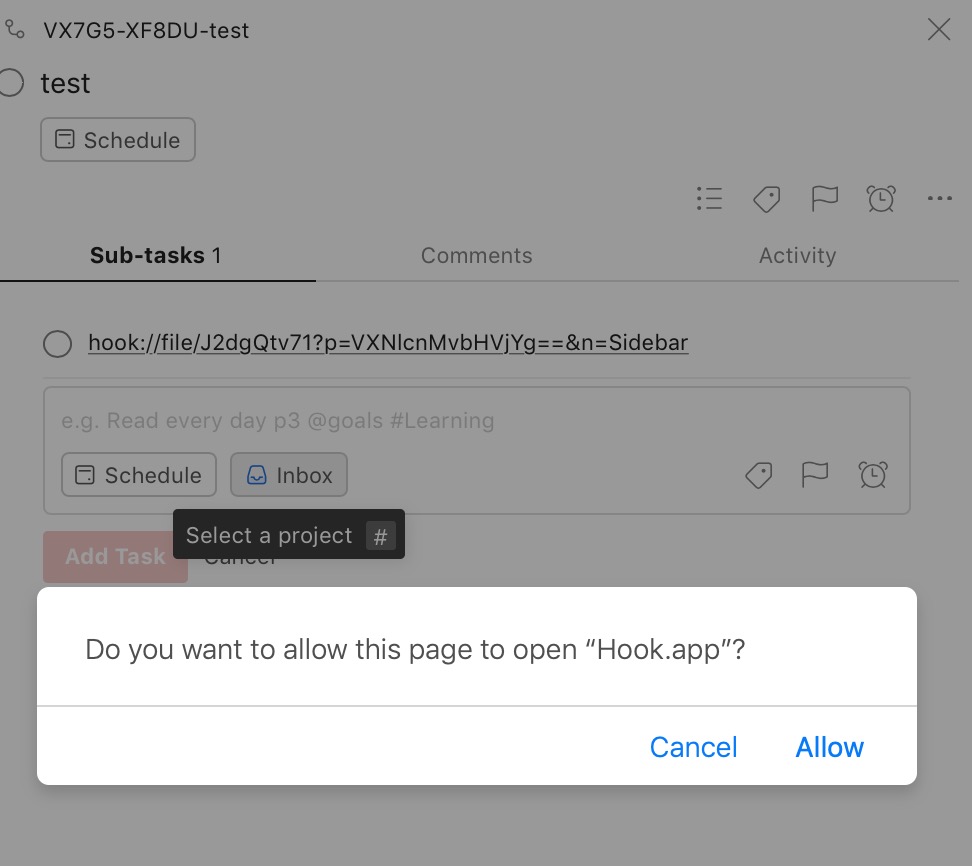 I clicked "allow" and Hook opened the target.
Different browsers , and web apps (SaaS) for that matter, handle app links differently. (that is not particular to Hook. If you were to paste a Things or OmniFocus:// URL same would apply.) E.g., Discourse does not like app links, so in that case you pretty much have to escape them in ticks (```) and then to use them you'd copy them and paste them in Spotlight popup window or LaunchBar.
You are absolutely right! The issue seems to be with Shift. I've sent in a ticket to the app developers. Thank you.
I am here to manifest my interest for local links for Todoist.
Web links are cool but if you use the local app it's actually quite annoying
Hopefully Todoist developers will listen!