I'm trying to link a folder in Finder to a folder in OmniFocus but am running into issues.
My current process:
Select and copy the link of the item in OmniFocus
Locate folder I want to link to in the Finder.app – left-click to select it
Invoke Hook.app keyboard shortcut
Press ⌘V or choose "Hook to Copied Link"
Everything seems to work fine at first glance, but when I tried opening the OF project from the Hook window after selecting the linked folder in Finder, it wouldn't work.
Upon closer inspection, the link in Hook has a "%0A" appended to it. The original link from OmniFocus does not have that "%0A" text. I'm guessing it's the line break that OmniFocus copies for some reason (a bug I guess on OF's end?).
Raw OmniFocus link: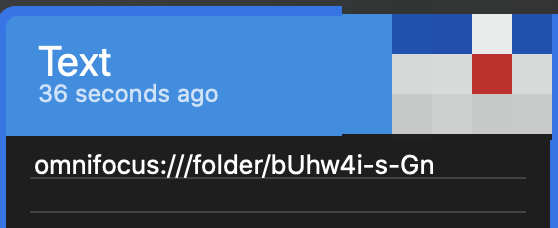 URL stored in Hook app:


Anyway, is there any way to remove this or fix it somehow on Hook's end? Does anyone else run into this issue? If so, how have you dealt with it?