Hi,
I'm surprised that this hasn't popped up earlier in the forum, but here's my question : I have a bunch of hooks to files that have been trashed (and the trash has been emptied).
These hooks still appear in the list, for example if I do a search of my hookmark database. Here is what I see: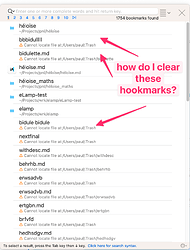 Admittedly my use case was weird (i generate a bunch of hooks to test some automation on my mac, and I trashed all garbage hooks at once …) so I'm not sur if it's just a matter of the database not catching up on my housekeeping?
Thanks for any thoughts.